Asociación por el Desarrollo, Educación, Ley, Formación, Arte y Seguridad (ADELFAS) is a Spanish non-profit organization founded in 2014.
The aim of ADELFAS is to create, develop and manage individual or consortium projects, grants and subsidies that promote sustainable development, environment and climate change management, a safer society through CBRN protection, and education on these topics. ADELFAS participates in these projects by providing multidisciplinary consulting and engineering services as well as serving as a link between companies, administrations, individuals and civil society interested in participating in charity or security initiatives aligned to the above topics.
It aims:
To be a link between companies, national public administration, European institutions and individuals in order to develop multidisciplinary services and projects promoting sustainable development, a safer society and Chemical-Biological-Radiological protection, the environment and climate change management, to boost education- that of art and culture, promote the association movement, participate In charity initiatives and manage the securing of grants or subsides for the aforementioned purposes.
To promote and participate in social, humanitarian, economic, Defence &security, CBRN protection, cultural and eco-development projects through the provision of consulting and engineering services, companies and members of the association or others with similar interests, or equipment, at national, pan-European and global levels.
To manage, through direct proposals or by participating in consortia, the securing of projects, grants and subsidies that enables the development of any of the purposes of the association.
To drive the ties between companies, administrations, individuals and civil society interested in participating in charity or security initiatives for national and international environments.
In order to fulfil its goals, the association performs national and international cooperation activities for development- co-development-eco-development. It also channels the contributions of services-equipment, companies or technical experts in different fields of activity towards projects with collaborative purposes. With its means, and in accordance with the reports and programs approved annually, the association manages Projects aligned with the aforementioned corporate purposes; supports scientific exchange between working groups, sponsoring meetings and symposia.
Faculty of science of mohammed v university
Located at 4 Avenue Ibn Battouta, Rabat, the science faculty is a teaching and research centre boasting over 50 years' experience working with students up to doctorate level in the fields of mathematics, information technology, physics, chemistry, biology and geology. The centre is a national flag ship for scientific studies and is comprised of an entirely native teaching corps.
It currently has 12,420 undergraduate students of whom 8,619 are bachelor; 1,023, masters and 2,778 doctorates. There are 420 research teachers and 205 administrative and technical staff.
The faculty hosts to 44 research instruments – 24 laboratories (16 accredited nationally) and 20 research teams – in which 2,778 doctoral students figure together with 7 competence centres, 8 research units with links to the national research body of CNRST (URAC) and 3 associated international laboratories (LIA).
The fields of investigation range from the basic to the applied and cover specializations from nanotechnology, therapeutic chemistry, renewable energy, microelectronics, biotechnologies, materials and Nano materials, environmental sciences, health, energy and energy efficiency, mechatronics and electronics, biotechnology and plant genetic improvement, to name a few.
National institute for applied science and technology
INSAT was created within the framework of cultural, scientific, technical and financial cooperation between the Republic of Tunisia and France.
The Institute provides higher education studies to form qualified engineers in the fields of computer science, Instrumentation, Industrial Informatics, Chemistry and Biology for private sectors and also for research. The Institute has seven (7) Laboratories and Research Units among which we can mention: – The Computer Science Laboratory for Industrial Systems (LISI) – The research unit of Nanobiotechnology and the Laboratory Materials Measurements and Applications. Its unique partnership with academic partners and industrial sector, its international cooperation projects with several countries (France, Canada, Germany, Sweden, Spain etc.) and the applied research activities of its Faculty and research staff have enabled it to become one of the main engineering school in Tunisia. The INSAT already has experience in the development of SPS-NATO projects with Pr. Dr. A. Abdelghani: Multisensing platform for warfare agent detection (2013-2016) and Advanced Apparatus for pathogen Detection (2009-2012).
1st regiment of NBC defence "Valencia"
The 1st Regiment of NBC Defence "Valencia" forms part of the army. It was created on the 1st March 2005 and is based at 49 Avenida de las Cortes valencianas in the Paterna district, 10km from the city of Valencia.
It is the first line of defence for nuclear, biological or chemical attacks. It is comprised of a 310 man-strong battalion trained to be deployed in attack theatres and protect other units in the armed forces. In the words of unit head Colonel Fernando Soteras, as quoted in an article for Revista: "it is the main instrument the army, and possibly the entire armed forces, has for combating NBC threat".
The regiment has at its disposal a highly-specialized, autonomous technical unit with mobile laboratories and a SIBCRA unit for forensic sampling. Nationally, the regiment works in conjunction with the civil authorities, the Interior ministry, the state security services, Civil Protection and the Centre of Energy, Environment and Technology Research. For example, during the Ebola emergency in Spain the regiment trained up personnel in the Spanish National Health Service.
On an international stage, it has participated in missions in Iraq and Lebanon as well as training people up in the Senegalese army from time to time.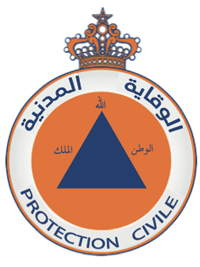 Moroccan general directorate of civil protection
Created by the Dahir of 30 April 1955 and attached to the Ministry of Interior by Decree No. 2-97-176 of 15 December 1997, the General Directorate of Civil Protection (GDPC) is a national body for reflection, research, Study, consultation and intervention for the protection of persons and property in all circumstances.
Among its missions assigned are, for example, those of:
Conduct studies, research and archiving of disaster information and ensure that measures and mechanisms of action are defined to prevent or respond to disasters…
Contribute to the prevention of natural, industrial, technological and building risks;
Collaborate with specialized institutions to modernize the forecasting system and warning systems;
Encourage partnership and cooperation activities in the field of civil protection.
the general directorate for the environment and the quality of life
The Directorate General for Environment and Quality of Life (DGEQV) is located in the Centre Urbain Nord in Tunis. Its roles and responsibilities are laid down by Decree No. 93-303 of 1 February 1993.
The mission of the DGEVQ is to assess the general situation of the environment and to propose the main orientations of the national policy on environmental protection and improvement of the quality of life. It develops plans of action for the conservation of natural resources, the reduction or elimination of all pollution phenomena.
It is organized into eight (8) sub-directorates, of which we shall mention only two particularly interesting ones for the project, namely, the sub-directorate of clean technologies, recovery and recycling and that of special and hazardous waste, composed of two services, the service of special and hazardous wastes and that of emissions and radiation.
It is responsible, inter alia, for:
The development and follow-up of action plans for environmental conservation and the fight against nuisances having a negative impact on natural and biological resources; on the sites, natural landscapes and the living environment of the citizen, in coordination with the relevant ministries.
Coordinate and monitor the application of regulations on the prevention of degradation of the natural environment and quality of life and the prevention, reduction and disposal of waste and polluting emission.
Coordinate and monitor the application of regulations on the prevention of degradation of the natural environment and quality of life and the prevention, reduction and disposal of waste and polluting emission.
The national office of civil protection (nocp)
The National Office of Civil Protection (NOCP) in Tunisia was established on December 27, 1993 within the Ministry of Interior.
It had a number of important goals, one of the most important being to organize civil protection on a national and regional scale. This involves responding to all types of accidents, calamities or disasters that threaten people, property or the environment.
The NOCP also engages in prevention activities, including contributing to both the national plan and regional schemes to prevent disaster, and therefore to prepare response. Part of this involves raising citizen awareness in prevention, as well as teaching people about civil protection and providing instruction in first aid.
The organization is involved in scientific research, taking part in formation, evaluation and studies within civil protection and disaster prevention; it also provides free interventions and services for state and public institutions. A further role is to contribute towards cross-disciplinary cooperation, and international co-operation.
The NOCP has around 6,000 personnel, spread across several departments, including Inspections; Central operations; Serious risk management; Preventive services; Equipment and resources; Public relations; and Information Technology. It also has departments responsible for personnel, financial management, accounting, legal studies and conflict resolution, internal audits and commercial activities. Furthermore, it has established the National School of Civil Protection.